October 9th, 2009 | Posted by under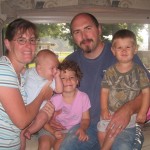 Hi, we're the Loughry (Lŏkry) family; Pictured left to right are Laurie, Jack Dalton, Lillianne, Ken, and Bryson. We live just outside of historic Gettysburg. Thanks for checking out our ministry. We are happy to serve with you in fulfilling the great commission.
Ken was a quality inspector in the manufacturing industry before being called into this ministry. He handles most of the everyday tasks involved in running GospelMailers.com, as well as taking seriously his command to train up his children in the way they should go. When he isn't working you can usually find him involved in some sort of home improvement project or laying on the floor playing cars with the kids.
Laurie was a Physical Therapist before taking on the challenge of raising and home schooling the children. She keeps the house and keeps us all fed as well. In her "free time" you will often find her working on various sewing and craft projects.
Lillianne is the oldest child and is a big help with her little brothers. When she isn't kissing on one of them you will usually find her in the kitchen working with Mommy, or comforting one of her many baby dolls.
Bryson is the oldest boy and he is a hard worker. He likes to work with Daddy on home projects and likes to help Mommy in the house as well. He loves any vehicle he can find with a motor on it.
Jack Dalton is the youngest and is still working on his personality. He likes to smile at Lilli and drool.
After being burdened to reach lost souls for years and spending a lot of time sharing the gospel through letters and face to face witnessing, we decided the time was right to jump into the ministry and serve the Lord with both feet. We are a typical busy family and enjoy the challenge of the work laid out before us. We ask that you partner with us in reaching out to a lost and hurting world. Our goal is to make every day just a little bit better. One person at a time, until all have heard clearly.
Thanks,
The Loughry's
Click here for Ken's Testimony!